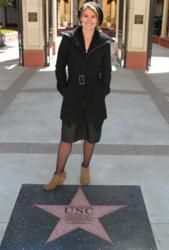 Los Angeles, CA (PRWEB) March 22, 2013
Wendy Dent, an award winning LA-based Australian filmmaker, writer and Visiting Scholar at University of Southern California School of Cinematic Arts, has been selected as a World Economic Forum Young Global Leader (2013-2018). Following the March 12 announcement of the honor in Geneva, she joined this week's YGL Future Development Summit in Washington, DC, which involved meetings with senior leaders of the World Bank, IMF, USAID, technology companies and the Obama administration. The Forum of Young Global Leaders' Blog also this week published Dent's writing on her idea of a Global Media Mentor initiative.
Drawn from a highly competitive pool of several thousand candidates nominated from around the globe, Dent is one of 200 Young Global Leaders (YGLs) chosen as the class of 2013 by a committee chaired by H.M. Queen Rania Al Abdullah of the Hashemite Kingdom of Jordan. The selection was based on the proven track record of her leadership experience, record of professional accomplishments, ability to overcome adversity and commitment to society.
Wendy Dent is joined by William James Adams (aka Will.I.Am) as the selected Los Angeles-based honorees. She is included in the US YGL class of 2013 list together with the country's highest achievers, such as Chelsea Clinton, Randi Zuckerberg, and Facebook co-founder Chris Hughes.
On the evening of the March 12 YGL announcement Dent was guest-speaking at University of Southern California's screening and discussion of 'No News From Harare', her human rights documentary about Zimbabwe's Mugabe regime. The event was co-presented by USC's School of International Relations, Department of Politics, International Human Rights Law Clinic and School of Cinematic Arts, the world's top ranked film school, where Dent is serving as Visiting Scholar for the academic year.
In the last year Wendy Dent has also been guest-speaking at screenings and discussions of 'No News From Harare' at Harvard, Columbia, UC Berkeley and Stanford universities, and premiered her new film 'December 25′ at IDFA, the world's largest documentary film festival.
While serving as Visiting Scholar at USC School of Cinematic Arts, Dent is now working on her next feature documentary, and also has several screenplays, books and web projects in development. In addition, she has received invitations for upcoming speaking engagements at further US universities and will next guest speak at Indiana University of Pennsylvania on April 18.
At the end of May, she will then head to Myanmar for the 2013 World Economic Forum Young Global Leaders' Annual Summit and World Economic Forum on East Asia.
As an active Young Global Leader Wendy Dent is given a 5 year term to participate in the World Economic Forums, YGL summits and global task forces. She becomes part of a broader collective community, currently composed of 756 outstanding individuals, that works to tackle a range of world issues. United by a shared purpose to realize a better future, the Forum for Young Global Leaders helps this diverse community of proven and tested leaders turn their personal successes to global significance by putting their energy into ideas that lead to impactful change.
"As a writer, there are few times I have found myself lost for words. This is not just one of those times. It is indeed the most exceptional" Dent stated, in her thanks to the Forum of Young Global Leaders for the selection. "I am truly honored to join this meeting of the globes finest minds – to contribute to new heights of excellence and join together with the most inspiring leaders amongst us, to change the frame of our world."
Further information on Wendy Dent and links to her Forum of Young Global Leaders' Blog 'Hollywood, The Citizen Journalist, and a GMM initiative' can be found at http://www.wendydent.com and http://www.humanrightsonfilm.com