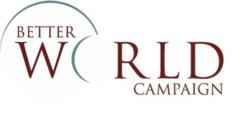 Washington, DC (PRWEB) January 16, 2013
A poll conducted during the current record-setting flu season and released today by the Better World Campaign reveals strong bipartisan support for the World Health Organization (WHO).
Sixty-one percent of voters express a favorable opinion of the WHO, and 92 percent say that it is important for the United States to both provide funds and be part of the decisionmaking process for the WHO, which works to protect against threats to global health and prevent disease outbreaks around the world. The figures are in keeping with findings of an April 2012 poll, in which 93 percent of Americans said it is important that the U.S. be a WHO member, indicating consistent U.S. support for the United Nations coordinating health agency.
With regards to U.S. spending on international assistance to help people in poor and developing countries improve their health situation, a plurality of voters45 percentsupport keeping the level of U.S. spending the same, 22 percent support an increase in this spending, and 27 percent support a decrease in this spending.
The poll was conducted January 6-9 by the bipartisan research team of Public Opinion Strategies and Hart Research Associates. It surveyed 900 registered voters (630 landline/ 270 cell) with a margin of error of