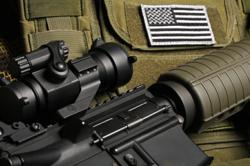 (PRWEB) December 21, 2012
Being a week out from the devastating tragedy in Connecticut, Big Game Gear along with America debates gun control issues and the reduction of gun violence. The 2nd Amendment as it currently stands, states that we have the right to bear arms. One may say we are not attacked by enemies in the US, as other nations are, due to Americans having the right to own and (with proper licensing) carry a firearm. But Big Game Gear asks, "What about the violent attacks on our own US grounds from people within?" The mass shooting at Sandy Hook Elementary sparks an immediate concern and forces the debate over gun control. Big Game Gear asks, "Do you believe guns are the problem or are underlying emotions people have triggering bigger issues?"
Big Game Gear is asking the hard questions and looking at both angles of gun control. One may have the opinion that guns kill people and if gun ownership is revoked then mass shootings would not occur. A Big Game Gear Consumer said, "Catastrophic events like the Connecticut shooting typically lead to reinforcing this ideology as an immediate fix. A more conservative approach is that guns do not kill people, people kill people. Our Nation has laws and processes to filter out felons, illegals, set age restrictions and so on, but at the end of the day, we can never be 100% sure that all gun owners should have possession of a firearm. Unfortunately we are unable to read the minds of others and know at all times what someone is mentally contemplating rather they are the owner of the firearm or just in the immediate presence of someone who is a firearm owner."
"Automobiles do not cause accidents, people driving them do. That is why we are taught driver safety and mandated to take courses. This is to try and prevent accidents from occurring in the first place, says gun safety advocate Ryan Andrews. A major factor in gun control is gun safety.
Big Game Gear educates gun safety and reinforces gun safety rules on their website. They advocate the highest standards of safety for the use and handling of firearms.
The reality that is seldom reflected upon in our media or social circles today includes the ongoing breakdown of core values and the mentally ill among mankind. More needs to be done legislatively to help those with mental issues. Mothers and fathers should not have to wait for their mentally unfit children to create a crime until law enforcement steps in, said a BGG consumer. Society has to look at the continual breakdown of core values. Free should never mean it is ones right. God is being taken out of everything and yet is blamed for not being there when we need Him most. Violence surrounds us on most television networks, violent video games and evening news broadcasts every day. This does impact society. There is no fear today for consequences.
As seen in Columbine, Sandy Hook Elementary, and Virginia Tech – mental illness combined with accessible firearms can be a very hazardous situation. Ronald Ray says, Should Americans risk losing the right to bear arms in order to protect their own family or self because of one persons actions? Or is legislation going to take a look at the more difficult subjects of encouraging family values, responsibility, and the recognition and treatment of mental health issues? When used properly in situations such as hunting, personal protection and military use, firearms are necessary.
Big Game Gear is an easy-to-use yet comprehensive site that puts it all in one place – products at great prices, information and outdoor education, giving back to organizations, amazing deals, and an experience shopping for the great outdoors.
READY-AIM-SHOP at http://www.BigGameGear.com TODAY!