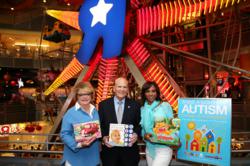 New York, NY (PRWEB) April 02, 2013
Imagine if the worlds lights turned blue to show support and raise awareness for the more than three million Americans who currently live with an autism spectrum disorder? Today, Autism Speaks, the worlds leading autism science and advocacy organization, hopes to do just that with the launch of its fourth-annual Light It Up Blue (LIUB) campaign, a global initiative to raise funds and increase awareness of autism.
Tonight, to mark World Autism Awareness Day, Autism Speaks kicks-off the campaign with more than 7,000 iconic structures and landmarks in 90 countries shining a bright blue spotlight on autism. Participating landmarks include the Empire State Building and George Washington Bridge in New York City, Niagara Falls in Canada and Burj Al Arab in Dubai. This year, Autism Speaks continues its quest to make Light It Up Blue bigger, bluer and better than ever before, by asking individuals, retailers and corporations worldwide to proudly shine a light on autism throughout the month of April Autism Awareness Month in their own personal way.
In 2010 I turned my porch light blue for the first time, said Jennifer Bunt-Chronister, whose daughter was diagnosed with autism at age four. Two years later more than 300 consecutive homes in what we now call our Blue-evard will shine bright blue. Light It Up Blue has given me a great platform to raise awareness for autism in my community and I hope others will be inspired to do the same this April.
Supporters can join the initiative by participating in any of three ways:


Illuminate: Change your white bulbs to blue. Light up your home, business, school, place of worship or even your website blue to show your support.
Donate: Text Autism to 25383 to donate $ 10 to Autism Speaks* or make a donation on LightItUpBlue.org.*
Advocate: Take action as we call on President Obama and Congress to develop and implement a comprehensive national plan to address autism. Sign our petition on LightItUpBlue.org.
For other ideas to get involved in LIUB visit LightItUpBlue.org. A list of participating landmarks is also available on the Light It Up Blue website.
Prevalence Rates on the Rise

The fastest-growing, serious developmental disability in the United States, autism currently has no cure however a new Centers for Disease Control survey of parents indicates that 1 in 50 school-age children has an autism spectrum disorder. The new estimate is significantly higher than the official government estimate of 1 in 88 American children. This number does not replace the official 1 in 88 estimate, but does suggest that we may be significantly underestimating autism prevalence in the U.S.," says Autism Speaks Associate Director of Public Health Research Michael Rosanoff, M.P.H. One in fifty, or two percent, is much closer to what weve seen from research that involves directly screening children in the community.
However, the recent government announcement of an $ 85 billion federal spending sequester means cuts to vital research and services for all those with autism. The cuts will specifically impact special education, housing and research programs, and even employment support for those affected by the disorder. This news follows recent estimates that on average, autism costs a family $ 60,000 annually.**
Growing prevalence rates demand that we increase our support for autism, said Suzanne and Bob Wright, co-founders of Autism Speaks. With this years Light It Up Blue campaign we hope to go beyond awareness and fundraising, and make our greatest impact yet by inspiring leaders in government to implement the national plan for increased funding, services and support that is so desperately needed.
At the state level, the Nevada State Capitol in Carson City will be illuminated the entire month of April, the Arizona State Capitol in Phoenix will participate for the first time and major events are planned at the state capitols in Tennessee, Minnesota, Nebraska and Massachusetts.
Philanthropic Partners Offer Support

This month, Autism Speaks corporate sponsors will offer essential awareness and fundraising support. As the largest partner of Autism Speaks, ToysRUs, Inc. will conduct its Shine A Light For Autism fundraising campaign between April 1 and April 30 at more than 870 ToysRUs and BabiesRUs stores nationwide and online at Toysrus.com/AutismSpeaks. As the national sponsor of the Walk Now For Autism Speaks program, ToysRUs is also inviting individuals to join a Walk event in their local community. And, for the first time, those who are unable to attend an event in person can still fundraise as they Walk With Geoffrey virtually at WalkNowForAutismSpeaks.org/Geoffrey. In addition, the worlds leading dedicated toy and juvenile products retailer is offering the Ten Toys That Speak To Autism list, created in partnership with Autism Speaks, which includes toy suggestions that help build various skills and aid in the development of children with autism.
Other partners offering their support this Autism Awareness Month include:
Major League Baseball: The MLB is partnering with Autism Speaks throughout Autism Awareness Month. All 30 MLB Clubs will raise awareness for the disorder during one home game in April, or on another date during the regular season.
The NBA: For the fourth consecutive year, the league and its teams will raise fan awareness about autism through a variety of activities at arenas and games. In addition, Nets star Deron Williams is teaming up with Autism Speaks in an effort to raise awareness.
AMC Networks: Secured 29 networks, including the four national AMC Networks channels, to air a special LIUB PSA. In addition, most channels turned their on-air logo bugs blue for the day and hosted LIUB banners and a digital version of the PSA on their websites.
The Home Depot: $ 1 per blue light bulb sold between March 1 and April 30 will benefit Autism Speaks.
NEST Fragrances: 100 percent of proceeds from purchases of NESTs Blue Garden Candle will be donated to Autism Speaks during the month of April. Those who use the promo code BLUEGARDEN when purchasing a Blue Garden candle on nestfragrances.com will receive free shipping.
Coleman.com: $ 5 per lantern sold on Coleman.com between March 15 and April 30 will benefit Autism Speaks.
Panera Bread: Covelli Enterprises-owned Panera Bread stores in WV, Western PA and Columbus, OH will be selling puzzle piece shortbread cookies, of which 100 percent of proceeds will benefit Autism Speaks. WV and Western PA will sell cookies from April 2 6 and Columbus, OH will sell cookies from April 23 27.
White Castle: All White Castles will run an in-store donation campaign from March 24 April 30. A portion of coupon redemptions from a free-standing insert distributed to 65 million US households in April will also benefit Autism Speaks.
Village Supermarkets: Select Shop-Rites primarily in New Jersey will ask customers to support Autism Speaks with at-register donations between March 24 and April 13.
Build-A-Bear Workshop: $ 1 from each blue bear sold + 50 cents per branded Tiny Tee sold between March 27 and April 30 will benefit Autism Speaks.
Caseys General Store: From April 1 30, Caseys General Stores across the U.S. will invite customers to make $ 1 and $ 5 donations in all 1,750+ locations.
Coinstar: Autism Speaks will be featured on 11,000 kiosks between April 1 and April 30.
Joes Crab Shack/Ignite Restaurant Group: Between April 1 and April 30, $ 1, $ 5 and $ 10 bounce back coupons will be given out to customers who give a donation to Autism Speaks.
Modells Sporting Goods: Modells stores will run an in-store dollar donation campaign benefitting Autism Speaks between April 1