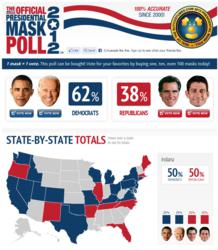 New Berlin, WI (PRWEB) August 31, 2012
For the past two primaries, they've also predicted the party nominees this year Mitt Romney finished with 21% of the overall vote.
On August 27th, 2012, BuyCostumes.com started tracking mask sales for the Vice-Presidential candidates, Joe Biden and Paul Ryan. Romney better hope that Ryan adds an additional level of popularity to his candidacy because according to the current poll results, Barack Obama has a rather significant lead. If the election took place today, Obama would be the clear winner with 62% of the votes!
How influential is the Vice Presidential nominee on the overall election? Looking at only presidential candidate mask sales from 2008, Obama would have won the election with 58% of total mask sales. Factoring in the sales of Sarah Palin and Joe Biden masks, however, brought the race much closer (and much more in line with the actual popular vote) – Palin outsold Biden 5 to 1.
Will Ryan have the same effect on Romneys campaign? BuyCostumes.com will be tracking the outcome of the election through sales of the new VP candidates masks at BuyCostumes.com/PresidentialMaskPoll.
Vote early, vote often! Go to BuyCostumes.com/PresidentialMaskPoll to cast your vote and buy your candidate into office.
About BUYSEASONS, Inc.

Founded in 1999, BUYSEASONS, Inc. is the leading online retailer of costumes, accessories, party d