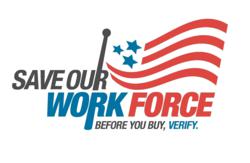 Hawthorne, CA (PRWEB) October 31, 2012
With the election a week away polls are showing that President Barack Obama and challenger Mitt Romney are locked in a close race – a precise dead heat at 49-49 percent, according to the latest ABC News/Washington Post tracking poll (Oct. 25-28, 2012) from a random national sample of 1,259 voters. The biggest question in this presidential election has been which candidate can do the best job fixing the ailing national economy. College students are wondering which candidate has the best plan to save and rebuild the middle class. "I am really concerned about finding a good job after graduation and want to hear more about Obama's and Romney's job plans", explains Mario Palma, a freshman at El Camino College. Some students have joined together and created their own jobs plan that both presidential candidates can use called SaveOurWorkforce.
Neither candidate President Barack Obama nor challenger Mitt Romney has addressed how they will discourage companies from outsourcing, according to college students. Ross Mazzolini, a sophomore at Texas Tech University explains, "A shrinking middle class affects young people the most and for several months students across the country have been working on a national jobs plan. We created a powerful solution that both candidates can support at SaveOurWorkforce.org." He says the root cause of the shrinking middle class is that large companies making record profits have no incentive to keep jobs in America since outsourcing – sending jobs, goods and services outside of the United States – is invisible to the consumer. This 'invisible outsourcing' is the leading cause of the high levels of unemployment and can be solved by making it visible using newly available social networking tools with SaveOurWorkforce. The organization's goal is to gives large companies incentive to keep jobs in America by providing a tool for consumers to easily monitor, encourage, and reward businesses that provide jobs to American families.
SaveOurWorkforce is made up of high school and college clubs that track and report the U.S. workforce size of the largest corporations in America and provide there database to the public free of charge on their website. The website tool Before-You-Buy, Verify" empowers consumers to direct their purchases towards companies that support the U.S. Workforce the most.